Denton County Republican Party
You're online. We're online. Let's connect! Sign up to receive updates about keeping our county
RED

!
The Lincoln Reagan Dinner

(Annual Fundraiser Gala)
is September 18, 2021
Can not attend in person?
No problem . . .

Our largest fundraiser of the year,
the Lincoln Reagan Dinner
helps create the operating funds to
maintain the Denton County Republican Party,
trainings, and
Get Out The Vote efforts!
Candidate Development Program Begins in June
APPLICATIONS ARE NOW BEING ACCEPTED
The application deadline is Friday, April 16th, 2021, so please get your applications submitted before that date!
TFRW is proud to introduce its next Candidate Development Program!
The purpose of this program is to
Empower women to run for elected office at all levels of government.
Build capacity among TFRW members to run for office.
Help women to gain confidence needed to run for office.
Reduce barriers to running for office.
APPLICATION DEADLINE IS FRIDAY APRIL 16TH, 2021!
Priority is given to those who wish to run for office within the next two years. Please click here for the application and return your completed application to leslifitz@sbcglobal.net.
For Questions Contact
TFRW Candidate Development Program Coordinator
Lesli R. Fitzpatrick
leslifitz@sbcglobal.net | 512-426-5993
RPT's first ever Texas Youth Leadership Summit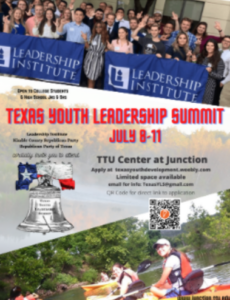 With the Kimble County Republican Party and the Leadership Institute, we are inviting Texas youth to this summit specifically designed to teach conservative principles and serve as a foundation for high school and college club development across the state. The leadership curriculum is designed to be college level but within the grasp of enthusiastic high school students. Students will be treated to a canoeing experience with some biology education on the Llano River, as well as some astronomy fun at night.
The goal of the camp is to help young adults better understand conservative values and capitalism and to prepare them for leadership roles in their communities. Attached you will find a flyer, letter for potential candidates with QR code for the application process and web link. The cost of the camp is only $150 thanks to the generous help of Kimble County Republican Party. It is recommended that each attendee have some "skin in the game" so if you decide to help students with fees, we ask that you allow them to cover a minimum of $50. We believe this will help us get the best candidates. There are 96 spaces available and attendees from a cross section of the state and from diversified age groups and backgrounds will be chosen. Please send the attached "Letter to Student" and "Flyer" to your individual members to share with youth they know might be interested.
STUDENT PROCESS
Step 1: Complete & submit online application by May 1st. The selection committee will then meet. Once a student has been selected to attend, they will receive an email with a registration link.
Step 2: Complete online registration and pay the $150 fee. Again, we are encouraging county parties and clubs to help students if possible, but to let students pay at least part of their fees. How much your students will pay is totally up to your organization. It is absolutely fine if the student pays the full $150 which is a great price and covers all room, board and activities.
If you have any questions, please feel free to reach out to me.
Kristi R. Antonick
Director of Youth Development
Office of the Vice Chair
(903) 812-4858
TexasYLS@gmail.com
2021 Leadership Institute Campaign School
A MESSAGE FROM LEADERSHIP INSTITUTE
Dear Friend,
Since you're a Texan, you'll get this. It's one of the biggest projects I've worked on at the Leadership Institute (LI) … so, of course, it's in Texas.
What do I mean? This summer, the LI will offer the Texas Campaign School Tour: 32 campaign workshops across Texas, from El Paso to Houston and Amarillo to Brownsville – with 28 stops in between.
These campaign workshops are the secret weapon for conservatives who want to run – and win – with smart, effective, genuinely grassroots-focused campaigns. Just ask the hundreds of conservatives who have used their LI training to win elected office.
At a one-day training near you, you'll learn exactly what you must do from announcement to Election Day. You'll learn:
· How to write a campaign plan that will guide you from your announcement to Election Day.
· How to raise money for your campaign including through personal solicitation.
· How to create a compelling message.
· How to calculate vote goals and run an effective volunteer operation.
These workshops aren't full of generic best practices or broad, vague ideas. Instead, they're the practical, tactical lessons you must learn to run a winning campaign. If you're serious about running for office – or working or volunteering for a campaign – then you owe it to yourself to sign up right now.
Find the campaign workshop nearest to you and sign up for just $25 right now.
In one day at the LI campaign workshop, you'll get the very best advice from campaign experts who have spent decades in the campaign world – dedicating thousands of hours to working or volunteering for conservative causes and candidates – and they're willing to share with you what it takes to win. Put simply: you get the advantage of years of direct, personal, hard-won campaign experience in just one day.
I'm not sure when we'll do a campaign workshop tour like this again, so if you're serious about helping conservatives get elected, you owe it to yourself to sign up right now.
Have questions? Email me at RArnakis@LeadershipInstitute.org.
I look forward to seeing you this summer.
Robert Arnakis
Senior Director of Domestic and International Programs
Leadership Institute
P.S. Sign up for any stop on the Texas Campaign Workshop Tour before Saturday, May 1st, with discount code "LITXtour" and get $5 off!
Under President Trump's leadership, he:
Passed historic tax cuts, providing relief for hard-working Americans, and leading to more take-home pay for working families.
Provided unprecedented resources to fight the opioid epidemic and save lives
Passed landmark VA reform to break the bureaucracy of the VA and give our veterans the care they deserve
Passed Anti-human trafficking legislation that has significantly decreased online advertising for sex trafficking and cracked down on bad actors.
Created policies to build the wall and protect our border, support ICE and target dangerous gangs like MS-13
Provided historic funding to rebuild our military after Obama gutted it and gave our troops their largest pay raise in a decade.
Appointed two conservative Supreme Court Justices named to the bench
Paid Advertisements
Advertise Here to get noticed . . .
We have Newsletter or Website options available!
Stay Up-To-Date
Latest News
Dear Conservative Family, Hope you had a peace filled Easter …

Read More

Dear Republicans, Thank you to our Elected Officials that went …

Read More

Texas Latino Conservatives PAC will hold their LeadershipLATINO seminar in …

Read More

Dear Conservative Family, Please know that our Municipal/City Council & School …

Read More

Fellow Republicans, THANK YOU for every step and all the …

Read More

Our Party
Our Party
The Denton County Republican Party is one of the leading organizations that constitutes the Republican Party of Texas.
SEE OFFICERS

Voting in Denton County
Voting in Denton County
Are you looking for information on how to vote in Denton County? Look no further!
LEARN MORE
Sign Up to Receive Updates
Support the Denton County Republican Party
Show Your Support
The DCRP receives no state or federal GOP dollars; every dollar is raised here and stays here.
Help the DCRP to become less dependent on one-time events or donations.