Denton County Republican Party
You're online. We're online. Let's connect! Sign up to receive updates about keeping our county
RED

!
Rally for America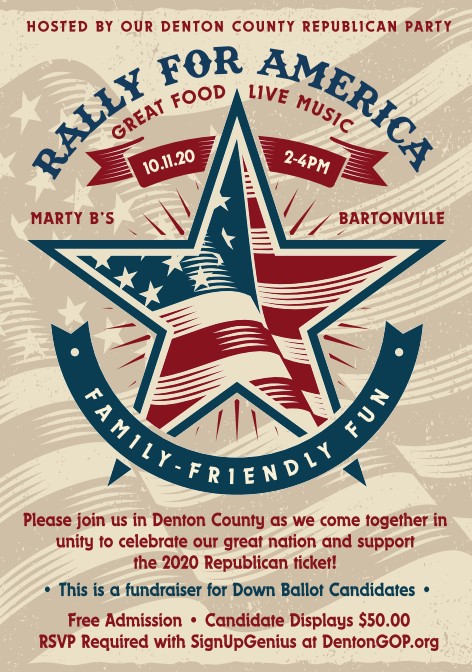 Senate District 30 Special Election – September 29, 2020
General Election – November 3, 2020
---
Days until the Early Voting (Nov 3rd Election)!!!
Days until the Nov 3rd Election!!!

Click below to help us on Election Day 
REGISTER TO VOTE?

– Go to VoteDenton.com, print out the voter registration form, fill it out and sign it, mail it back to Denton County Elections!! Due by Oct.5th
---
Don't Forget to Complete Your Census Form
The 2020 Census count is underway. Population counts from the Census determine the number of Congressional seats Texas will have starting in 2022 and are a key in determining how Federal funds are allocated to the states.
By now you should have received your Census letter in the mail. Please remember to complete your online Census form. It takes around ten minutes to complete and helps ensure all Texans are counted accurately.
Under President Trump's leadership, he:
Passed historic tax cuts, providing relief for hard-working Americans, and leading to more take-home pay for working families.
Provided unprecedented resources to fight the opioid epidemic and save lives
Passed landmark VA reform to break the bureaucracy of the VA and give our veterans the care they deserve
Passed Anti-human trafficking legislation that has significantly decreased online advertising for sex trafficking and cracked down on bad actors.
Created policies to build the wall and protect our border, support ICE and target dangerous gangs like MS-13
Provided historic funding to rebuild our military after Obama gutted it and gave our troops their largest pay raise in a decade.
Appointed two conservative Supreme Court Justices named to the bench
DCRP HEADQUARTERS
is open Mon – Fri
 from 9  am – 3 pm (Mon – Thurs)
from 9 am – 2 pm (Fridays)
Stay Up-To-Date
Latest News
Click below: https://gov.texas.gov/news/post/governor-abbott-issues-executive-order-implementing-essential-services-and-activities-protocols

Click below: https://news.dentoncounty.gov/2020/03/31/commissioners-court-extends-stay-at-home-mandate-through-april-7/

https://www.youtube.com/watch?reload=9&v=81aL9Rynueg&t=3s You can be a delegate to the …

Read More

Our most prestigious leadership group! Join today ($2500 annually - …

Read More

Our Party
Our Party
The Denton County Republican Party is one of the leading organizations that constitutes the Republican Party of Texas.
SEE OFFICERS

Voting in Denton County
Voting in Denton County
Are you looking for information on how to vote in Denton County? Look no further!
LEARN MORE
Sign Up to Receive Updates
Support the Denton County Republican Party
Show Your Support
The DCRP receives no state or federal GOP dollars; every dollar is raised here and stays here.
Help the DCRP to become less dependent on one-time events or donations.