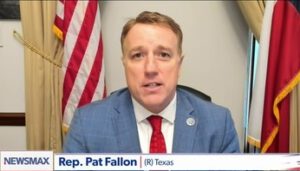 Rep. Pat Fallon, R-Texas, told Newsmax on Wednesday that Republicans should unite behind "whoever gets the most votes" for House Speaker to avoid further delaying the work of Congress.
When asked if the attack on Israel over the weekend has altered the situation for Republicans as they look for the next House Speaker, Fallon said on "National Report" that "the tragedy in Israel definitely does hone the responsibilities that we have, and I would hope because we need to have a speaker, we need to have one today."
He went on to praise both of the top contenders for the post, House Majority Leader Steve Scalise, R-La., and House Judiciary Committee Chairman Jim Jordan, R-Ohio, as "excellent leaders" and "great conservatives," saying he would be "happy" to have either serve as speaker.
"We can always reach for perfection, but … we'll settle for excellence," Fallon said, "and we have Jim Jordan and Steve Scalise. Both are excellent leaders, they're great conservatives, and I would be happy with having either as our speaker."
However, he did note that he's "endorsing Steve Scalise," adding, "I think that Jim Jordan would be a great speaker as well, but Steve Scalise is the one that's … proven that he can lead the conference as our majority leader."
Fallon added, "We're going to go down and vote in about 15 minutes, and whoever gets the most votes should be the person that we all support. It's very simple. That's the way people have been caucusing for centuries."
The congressman also reiterated his point that Republicans must decide on a new speaker immediately.
"This is a dangerous world," he said. "We're living in dangerous times and the world is looking for America to lead.