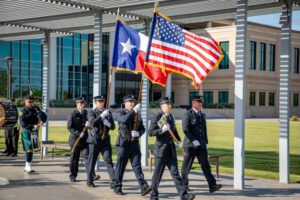 County Judge Eads wrote: "This week we gathered at the Denton County Administrative Courthouse Amphitheater in solemn remembrance and heartfelt gratitude to honor the brave, those who have made the ultimate sacrifice while answering the call to public service as firefighters across Denton County. The Denton County Firefighter Memorial Service is a poignant reminder of these heroes' profound dedication and selflessness."
This ceremony is always very special for me as the son, nephew, and brother-in-law of firefighters. I have seen firsthand the determination, dedication, and devotion of those chosen this profession.
In times of crisis and danger, our firefighters embody the essence of service, courage, and sacrifice. They rush towards the flames, not away from them, risking their lives to protect our families, homes, and communities. Each year, we assemble to remember the sacrifices of those who have been called to a higher purpose that demands unwavering commitment and a willingness to lay down one's life for others.
With extreme heat this past summer, the drought, and wildfires have added another layer to your already increasing workload with our growing population of over 1 million and increasing traffic across our major thoroughfares.
Firefighters and EMTs respond to numerous calls for assistance, putting their own health and safety at risk each time – all to serve others.
I am grateful that we pause and recognize our firefighters and honor them each year through this memorial service. Reading the names of fallen firefighters, taking a moment of silence followed by the striking of the bell, and a wreath presentation create a time of solemn remembrance and appreciation.