| | |
| --- | --- |
| Denton County news & updates | |
November 10, 2023 | From the Office of Denton County Judge Andy Eads
A Word from the County Judge
| | |
| --- | --- |
| | Serving alongside Denton County Judge Mary Horn on the Denton County Commissioners Court was truly an honor. She was a strong leader and a true Texas legend. Her induction into the Texas Women's Hall of Fame this week will enable others to learn about her dedicated service to Denton County and its residents for many generations to come. |
Mary Horn Inducted into
the Texas Women's Hall of Fame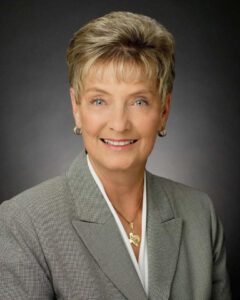 On Thursday, Governor Greg Abbott inducted former Denton County Judge Mary Horn into the Texas Women's Hall of Fame. The dinner celebrating the new inductees was held in Austin, Texas, with Texas Woman's University (TWU) serving as home to the Hall of Fame

.https://gov.texas.gov/news/post/governor-abbott-announces-2023-texas-womens-hall-of-fame-honorees

Mary was born and raised in Owatonna, Minnesota, but you would be hard-pressed to find anyone more Texan than Mary. She moved to Texas at age 18, settling first in Dallas and then in Denton after marrying former State Representative Jim Horn in 1967. Mary fell in love with Denton and Denton fell in love with her.Mary was the matriarch of Denton for several decades. This community grew up under her leadership. She was a friend to everyone, a strong leader and a true Texas legend and I can't think of anyone more deserving of this honor.

Mary started her career as a Braniff Airlines flight attendant and was promoted through the ranks from 1965 – 1982, and when she took maternity leave for her children, she was replaced by two men to complete her same workload.

"My mother was a trailblazer her entire life though she never thought of it that way. She just put her head down and worked hard. She believed in giving her all to her community and in exchange, the people of Denton gave her a tremendous amount of joy in her work," her daughter, Jennifer Horn Stevens, shared.

Prior to serving in elected office, Mary worked for Braniff Airlines and then ran her own small business.

Mary and Jim were both civic-minded and began pouring themselves into state and national Republican politics shortly after arriving in Denton. In 1972, at their kitchen table, the couple started the Republican Party in Denton County.

Mary supported her husband, Jim, in his election as the first Republican in Denton County since Reconstruction. It took three elections before Jim won but Mary's support never wavered. In fact, Mary never wavered on anything; campaigning in the cold until she got frostbite on her hands on a particularly cold January evening. Jim served as the State Representative in District 64 for 18 years.

Mary began her own political career as the first woman to be elected to the Denton County Tax Assessor-Collector's office on Jan. 1, 1993, serving for 9 ½ years. In 1999, Mary was nominated as Texas Tax Assessor-Collector of the Year. In 2002, she was elected as the first woman County Judge in Denton County history, serving citizens until Jan. 1, 2019, as she completed her tenure as the only female and longest-serving Denton County Judge. Her parting advice to incoming County Judge Andy Eads was typical, to the point, and insightful, "stick to your guns."

Mary oversaw significant milestones as the county experienced phenomenal growth. Among her most prized accomplishments – being a good steward of Denton County residents' tax dollars. Mary strongly believed in running a fiscally conservative operation while providing quality services to Denton County residents. Mary modernized the tax office and increased efficiencies. She also went to Austin and was the force behind the state law that enabled vehicle registration online or at grocery stores to make it easier for residents.

During her time as Tax Assessor-Collector, she wrote and testified in support of nine state tax laws. After her appointment on June 11, 2002, as County Judge, her first major task was to increase budget reserves, which went a long way to establishing the county's ongoing AAA bond rating.

She spearheaded two road bond packages overwhelmingly approved by voters in 2004 and 2008, leveraging $335 million in local funds to bring over $3 billion in road improvements and improved or new county buildings. Mary did this against the will of the Denton County Republican Executive Committee who voted almost unanimously against expanding I-35. But that was Mary. If it was the right thing to do, she didn't care what the pressures were, she was going to do it.

As her term was ending, every state and federal highway in Denton County had been widened or was funded and in development to be widened. In 2008 Judge Horn received the Texas Department of Transportation "Road Hand Award" for her incredible work developing infrastructure throughout North Texas.

Judge Horn expanded or improved county buildings including the Loop 288 Administrative Complex, the District Attorney Annex, the County Government Centers at Carrollton, Cross Roads, and Frisco, and the Southwest Courthouse, the Charlie Cole Building, the Denton Courts Building, the County Law Enforcement facilities, Road & Bridge East and West facilities, and the Lee Walker Government Center Buildings.

She envisioned the new Denton County Administrative Courthouse in the early to mid-2000s, working tirelessly to advocate for voter-approved dollars to build a courthouse worthy of generations to come, much like the historic 1896 Courthouse-on-the-Square has proven to be, she noted in a letter written for a time capsule for the new Denton County Administrative Courthouse.

Through her tenure in County service, Mary served on 20 various boards and committees including the Texas Association of Counties, National Association of Counties, Denton Emergency Planning Advisory Council, Dallas Regional Mobility Coalition, County Judges and Commissioners Association of Texas, Elections Commission, Community Justice Council, Salary Grievance Board, Investment Evaluation Committee, Denton County Courts Building Operations Plan Committee, Courthouse-on-the Square Preservation Grant Committee, Contract Oversight Committee, Transportation Committee, Denton County Juvenile Board, Capital Improvement Committee, Denton County Building and Property Committee, Records Management Disaster Recovery Committee, Child Protective Services Board, Civil Service Commission, Vice Chair of the Texas Workforce Development Board, and Public Employee Benefits Cooperative.
Mary saw a 65 percent increase in population during her term and, as her term was ending, the county roster had grown to 1,700 employees working in 40 buildings to provide services.
Mary not only founded but also built the Republican Party in Denton. She was the 1988 Texas Federation of Republican Women Honoree and served as President of the Denton Republican Women's Club in 1988, 1989, 1990, 1999-2000, and 2018-2019.

In her final column, published in the Denton Record-Chronicle, she wrote: "There is a sense of satisfaction in knowing that I worked side by side with many great employees to lay the foundation for what is to come. I would not trade these past 26 years for anything. Thank you to the many elected officials, employees and residents who made it a memorable ride."
At the event hosted by the Office of the Governor and First Lady Cecilia Abbott, three women from Denton County were a significant part of the event – Judge Horn, Lavinia Masters, both honorees, and The Honorable Jane Nelson, Texas Secretary of State, who was among the speakers.

Lavinia Masters, a Lewisville attorney, is the founder of Hope SAVES Sexual Abuse Victim Empowered 2 Speak Ministry who also recently had a bill named after her. She was honored for her advocacy and community service – in recognition of her selflessness and strength, building on her faith and finding the power of her voice to speak for survivors of sexual violence, to raise awareness of a nationwide rape kit backlog, and to bring justice through legislative action.

Joining us to recognize these women were the TWU Board of Regents as well as Chancellor and President Carine Feyten, local leaders, and several of our state legislators.
It was truly an honor to be a part of this ceremony and to recognize the efforts of these women who have contributed so much to the betterment of all in Denton County.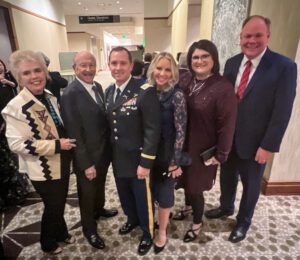 Results from the Nov. 7 Election
The results are in for the Constitutional Amendments, propositions, and other elections on the ballot for the Nov. 7 General Election. See the results for the Constitutional Amendments below:

Proposition 1: "The constitutional amendment protecting the right to engage in farming, ranching, timber production, horticulture, and wildlife management." This Proposition passed.

Proposition 2: "The constitutional amendment authorizing a local option exemption from ad valorem taxation by a county or municipality of all or part of the appraised value of real property used to operate a child-care facility." This Proposition passed.

Proposition 3: "The constitutional amendment prohibiting the imposition of an individual wealth or net worth tax, including a tax on the difference between the assets and liabilities of an individual or family." This Proposition passed.

Proposition 4: "The constitutional amendment to authorize the legislature to establish a temporary limit on the maximum appraised value of real property other than a residence homestead for ad valorem tax purposes; to increase the amount of the exemption from ad valorem taxation by a school district applicable to residence homesteads from $40,000 to $100,000; to adjust the amount of the limitation on school district ad valorem taxes imposed on the residence homesteads of the elderly or disabled to reflect increases in certain exemption amounts; to except certain appropriations to pay for ad valorem tax relief from the constitutional limitation on the rate of growth of appropriations; and to authorize the legislature to provide for a four-year term of office for a member of the board of directors of certain appraisal districts." This Proposition passed.

Proposition 5: "The constitutional amendment relating to the Texas University Fund, which provides funding to certain institutions of higher education to achieve national prominence as major research universities and drive the state economy." This Proposition passed.

Proposition 6: "The constitutional amendment creating the Texas water fund to assist in financing water projects in this state." This Proposition passed.

Proposition 7: "The constitutional amendment providing for the creation of the Texas energy fund to support the construction, maintenance, modernization, and operation of electric generating facilities." This Proposition passed.

Proposition 8: "The constitutional amendment creating the broadband infrastructure fund to expand high-speed broadband access and assist in the financing of connectivity projects." This Proposition passed.

Proposition 9: "The constitutional amendment authorizing the 88th Legislature to provide a cost-of-living adjustment to certain annuitants of the Teacher Retirement System of Texas." This Proposition passed.

Proposition 10: "The constitutional amendment to authorize the legislature to exempt from ad valorem taxation equipment or inventory held by a manufacturer of medical or biomedical products to protect the Texas healthcare network and strengthen our medical supply chain." This Proposition passed.

Proposition 11:"The constitutional amendment authorizing the legislature to permit conservation and reclamation districts in El Paso County to issue bonds supported by ad valorem taxes to fund the development and maintenance of parks and recreational facilities." This Proposition passed.

Proposition 12: "The constitutional amendment providing for the abolition of the office of county treasurer in Galveston County." This Proposition passed.

Proposition 13: "The constitutional amendment to increase the mandatory age of retirement for state justices and judges." This Proposition did not pass.

Proposition 14: "The constitutional amendment providing for the creation of the centennial parks conservation fund to be used for the creation and improvement of state parks." This Proposition passed.
Celebrating Veterans Day around Denton County
As we honor and celebrate our veterans, Denton County Offices will be closed on Friday, Nov. 10, in observance of this national holiday. On this day, you are invited to the Denton Courthouse-on-the-Square for a Veterans Day Program hosted by the Denton County Veteran Services Office, Texas Woman's University, and the University of North Texas. Dr. Michael Burgess will be the keynote speaker, and other distinguished guests will be recognized during the program that begins at 11 a.m.

Municipalities across Denton County have Veterans Day celebrations, and they are listed below:

Carrollton, Veterans Day Celebration, Nov. 10, 11 a.m. – 1 p.m.
Celina, Veterans Day Ruck March, Nov. 10, 8:30 a.m.
Denton, Veterans Day Program, Ages 50+, Nov. 10, 1 – 2 p.m. (Denton Senior Center)
Flower Mound Veterans Day Run, Nov. 10, 9 a.m.Frisco, Community Parade, Nov. 11, 10 a.m.Highland Village, Salute Our Veterans Luncheon, Nov. 10, 11 a.m. – 1 p.m.Little Elm, Veterans Walk, Nov. 11, 11 a.m. – 1 p.m.

Prosper, Veterans Day 5K & Fun Run, Nov. 11, 8 -11 a.m.
Roanoke, Veterans Parade, Car Show & Cook Off, Nov. 11, 10 a.m.
The Colony, Americans Heroes Salute to Veterans & First Responders, Nov. 10, 4 p.m. – 10 p.m.; Nov. 11, 9:30 a.m. – 8 p.m.
Trophy Club, Veterans Day Celebration, Nov. 11, 11 a.m. – 12 p.m.

In honor of our veterans, we are participating in Operation Green Light, an initiative by the National Association of Counties. We have illuminated both the Denton County Courthouse-on-the-Square and the Administrative Courthouse, and they will be lit up each evening through Sunday, Nov. 12.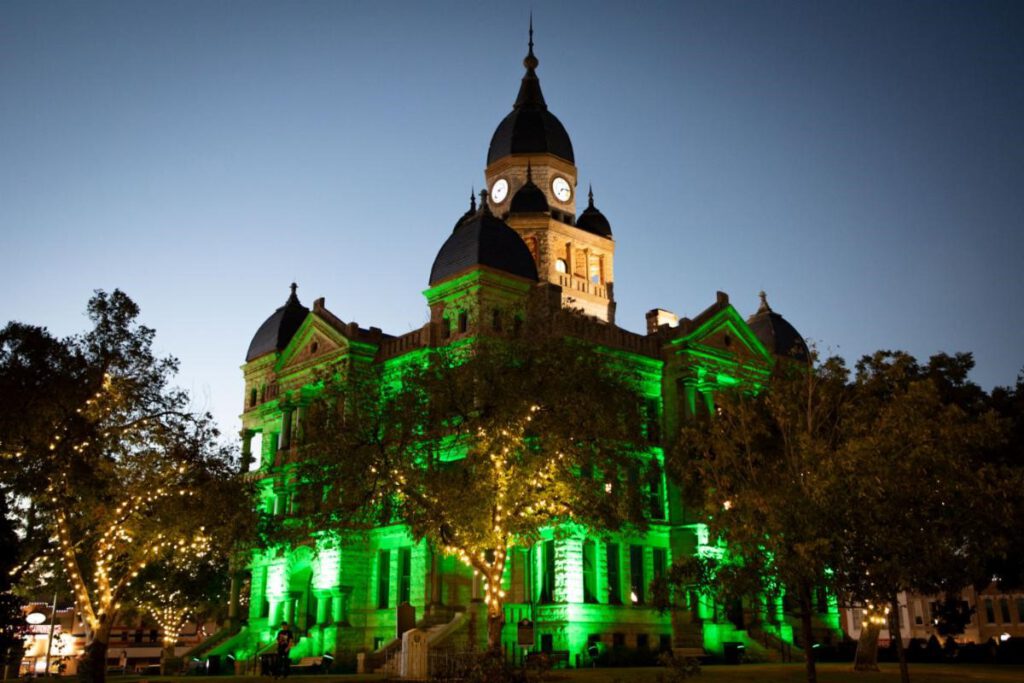 Paul Bastaich, Director of the Veterans Service Officer, thanked the Denton County Commissioners Court during Tuesday's meeting for their direction to honor all Denton County veterans through Operation Green Light.

The program encourages all 3,069 counties, parishes and boroughs to join in showing support for veterans by lighting all buildings green from Nov. 6-12.

The Denton County Administrative Courthouse at 1 Courthouse Drive off Loop 288 and the Denton County Courthouse-on-the-Square in downtown Denton are both showing support with green lighting, which began Monday evening and will continue until Sunday.

Mr. Bastaich told commissioners he was overwhelmed with the support when he saw the courthouses lit green on Monday, adding that he wanted to thank everyone on behalf of all veterans and their families.

The Denton County Commissioners Court thanked Paul Bastaich and other veterans for their service, indicating that they wanted to show support through the Operation Green Light program.

Residents and businesses also are asked to join in with Operation Green Light – shining the green light to let veterans know they are seen, appreciated, and supported.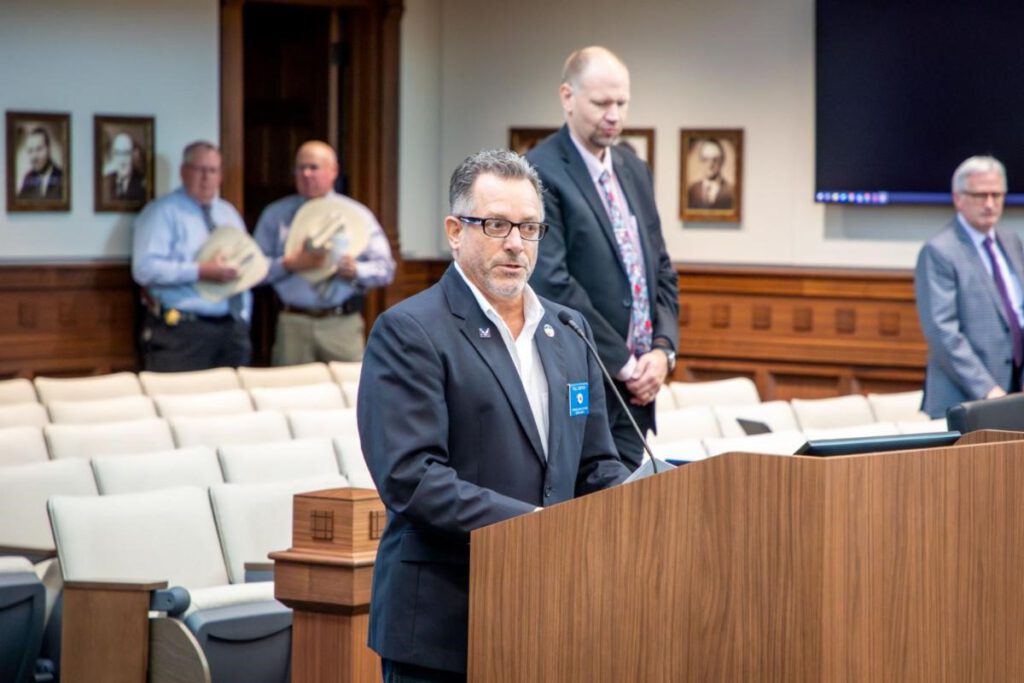 Public transportation to Veteran Services locations
Public transportation across Denton County is available to help our veterans get to the places where they can receive services.

Denton County Transportation Authority (DCTA), SPAN, and DART all have transportation for veterans to get to appointments and locations across North Texas to receive care and services as a part of their military service to our nation.

Veterans can ride DCTA free on Veterans Day, Saturday, Nov. 11.
Veteran Thanksgiving Baskets
Denton County veterans and their families are eligible for Thanksgiving Baskets with all the trimmings. Sign up or scan the QR Code by Nov. 15 to participate.

Pick-up will be on Sunday, Nov. 19 from 10 a.m. – 2 p.m. at Denton VA CBOC, 2223 Colorado Blvd., Denton.
Historical Park Winter Hours
Wreaths across America in Denton County
National Wreaths across America is fast approaching and will be here on Saturday, Dec. 16. Typically, more than two million volunteers and supporters will gather to Remember, Honor, and Teach on Dec. 16 at more than 4,000 participating locations in all 50 states, at sea, and abroad.

Below are the cemeteries in Denton County that participate in this program by placing wreaths on veterans' gravesites. By clicking the city name, you will be directed to the cemetery and purchase a wreath or volunteer to serve on Wreaths across America Day.

·     Celina, 11400 FM 2478·     Denton, 747 East Prairie Street·     Flower Mound, 6550 Cross Timbers Road·     Flower Mound, 1501 Flower Mound Road

·     Frisco, 16594 King Road

·     Krum, FM 156

·     Lewisville, 1200 McGee Lane

·     Pilot Point, 400 St. Thomas Aquinas Avenue

·     Trophy Club,1130 Trophy Club Drive
Heart Gallery of North Texas: Meet Jakayla
Heart Gallery of North Texas provides photos and information about children in North Texas who are in CPS care and available for adoption. Each child is professionally photographed and has biographical information included with the photo. Each child is unique in their situation, but all long to be adopted into a loving home and have a family.

Please meet Jakayla. Below is her biographical information from the
Heart Gallery of North Texas. She is 15 years of age.
Click here to inquire about Jakayla.

Meet Jakayla! Her friends call her "KK." She is a very animated, sociable, and personable young lady. She is very intelligent and wants to be an oncologist when she grows up. She does well in school and loves participating in all the sporting activities, such as volleyball, basketball, cheer, and track. Jakayla loves animals and participated in her school's AG program a few years ago and showed her pig. One day, Jakayla hopes to have her own dog. She likes keeping in touch with her friends on her phone and enjoys other activities such as ice skating, shopping, and getting a manicure. She has always wanted to travel and would love to visit the Pacific Ocean. Jakayla has a good sense of humor and loves to crack jokes and be silly. She also loves the jokes of others and watching funny movies. She enjoys being the center of attention and loves shining in the spotlight.
Jakayla will do well in a two-parent home where she is able to receive the attention and love that she deserves. Jakayla would do well in a household with either children younger than her or male children older than her. She prefers not to be the only child in the house as she doesn't want the attention solely on her. She responds well to clear expectations and exceeds when people trust her. She would love to have an active family that will encourage her to participate in activities that will improve her self-esteem and social skills. Jakayla's family will be patient with her as she settles in, not give up on her, and provide stability.
Upcoming events during November!
| | |
| --- | --- |
| | The 3rd Annual #runforDylan 5K & 1M Fun Run is slated for Saturday, Nov. 11, at Blanton Elementary School, 9501 Stacee Lane in Argyle. |
A 5K fundraiser in honor of a previous Flower Mound employee who battled MS. Scheduled for Saturday, Nov. 11, at

Bakersfield Park, 1201 Duncan Lane, Flower Mound.
| | |
| --- | --- |
| | This cornhole tournament is set for Saturday, Nov. 11, 10 a.m. – 5 p.m. at Heritage Park, 600 Spinks Road in Flower Mound. |
| | |
| --- | --- |
| The Shops at Highland Village host a tree lighting festival with music, horse-drawn carriage rides, face painting, cookie decorating, ornament making, and Santa! Stop by on Saturday, Nov. 18, at 5:30 p.m. to enjoy. | |
Holiday Lightning on the Denton Square needs volunteers
The always successful Holiday Tree Lighting Festival at Denton Square will move to a first Saturday event instead of a first Friday in December, as it has been for many years. The festival will run from 3 p.m. to 9 p.m. on Saturday, Dec. 2.

This year, the Denton Holiday Tree Lighting Festival is looking for volunteers to help with some kid's activities. The volunteers will help to keep the lines moving and help to keep the schedule going.

If you are willing to do a two-hour shift between 2 p.m. and 9 p.m. on Saturday, Dec. 2, please respond to Christine Sanders at 214-680-2929. There will be a volunteer meeting before the big day on Thursday, Nov. 30.
Save the Date for December 30!
In the News Around Denton County
Thousands of homes planned for new community in Denton County

Dallas-based development company Hillwood Communities broke ground Oct. 2 on a new master-planned community in Denton County that will include thousands of homes when finished.
Continue reading
City of Carrollton storm drain art contest to promote environmental awareness

Local residents and artists in Carrollton and the surrounding area have the opportunity to make a splash in their community by participating in the city's storm drain art contest.
Continue reading

Celina officials pave way for growing population

Traffic cones, road closures and construction crews are all markers of the steps city leaders are taking to address Celina's unprecedented growth. Celina's population has skyrocketed in recent years, growing more than 476% from 2010 to October 2023, according to U.S. Census data.
Continue Reading
Hi there! Meet Layla Henry!
Meet Layla Henry again!
This beautiful lady is still available and anxiously awaiting a forever home.
I'm Layla Henry, a spirited six-year-old canine hailing from the vibrant city of Las Vegas. From my puppy days, I've been an integral part of a loving family, cherishing every moment we've shared. Regrettably, circumstances led to my presence at the shelter, where I found myself due to my innate protective instincts.
I hold a vigilant stance regarding my food, toys, and beloved humans, diligently safeguarding them from the influence of other canines.
Consequently, my ideal forever home would be one where I can shine as the sole furry companion, basking in the undivided attention of my cherished human companions. I love a good game of fetch and a beautiful backyard. I also love treats and affection.
I will be my best self and thrive in an environment brimming with activity and with an energetic and affectionate family.
To meet me in person, you're welcome to visit Monday through Friday, from 10 a.m. to 5 p.m., and Saturdays between 10 a.m. and 1 p.m. at the Little Elm Animal Services, 1605 Mark Tree Lane.
I eagerly await the opportunity to capture your heart and become an irreplaceable member of your loving household.
Upcoming Reminders for Denton County
Mark your calendars!
Friday, Nov. 10 – Denton County Offices closed – Veteran's Day
Tuesday, Nov. 21 – NO Commissioners Court
Thursday, Nov. 23 – Denton County Offices closed -Thanksgiving
Friday, Nov. 24 – Denton County Offices closed – Thanksgiving
Monday, Dec. 25 – Denton County Offices closed – observance Christmas Eve
Tuesday, Dec. 26 – NO Commissioners Court (offices closed) – observance Christmas Day
Monday, Jan. 1, 2024 – Denton County Offices closed – observance of New Year's Day
Tuesday, Jan. 2, 2024 – NO Commissioners Court
| | | |
| --- | --- | --- |
| Denton County Judge Andy Eads | | |