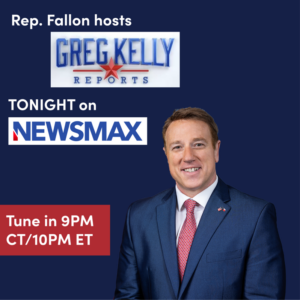 U.S. Congressman Pat Fallon is hosting NewsMax TONIGHT!
Personal note from Rep. Fallon:
Please join us on NewsMax tonight as I have the high honor of hosting The Greg Kelly Show from 9pm-10pm central time. We'll be discussing the latest bombshell revelations of the Biden Family Corruption Scandal, the disaster at our southern border and much more! All patriots are welcome!!