We're Getting Sued!
For more than a year, I fought alongside moms throughout Texas to remove sexually explicit materials from the hands of children in our public schools. It's hard to believe it was even a discussion, but yes, there are those who will do whatever it takes to sexualize our kids. This parent get's it, and wrote a great op-ed in the Houston Chronicle recently saying he "just wants graphic sex out of school libraries."
But that's why we passed HB 900, known as The READER Act. This bill eliminates sexually explicit materials from public schools, forces districts to receive parental approval before students have access to other sexually relevant materials, and forces book vendors to rate books based on their sexual content. You can watch The READER Act become law from start to finish here.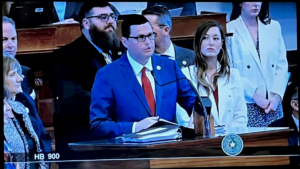 But now, we're getting sued by far-left owners of bookstores in Austin and Houston so they can keep selling explicit content to schools. Specifically, they filed against the Texas Education Agency, the Texas State Board of Education and the Texas State Library and Archives Commission – three entities pivotal to implementing HB 900.
Though we fought so hard to challenge and remove explicit content at the local level and to pass HB 900 all the way through the legislative process, we must continue to stand and fight back against those hellbent on sexualizing our children.
Keep the momentum going by contributing to my campaign TODAY! Donate Here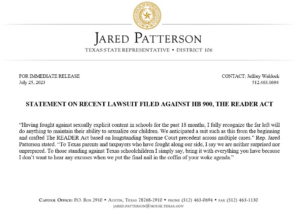 As I released in my statement, "To those standing against Texas schoolchildren I simply say, bring it with everything you have because I don't want to hear any excuses when we put the final nail in the coffin of your woke agenda."
But we need your help to fight back! Please consider contributing to my campaign TODAY!
Now is the time to draw your own line in the sand. Which side will you be on?