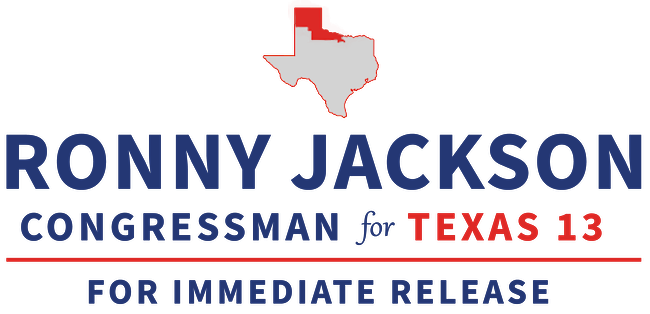 Last month, Mike Johnson, a very strong conservative, was elected Speaker of the House. I was proud to cast my vote for him, and I want to assure you that the Republican party is united and stronger than ever. We are already getting back to working for the American people by passing fiscally responsible government funding legislation, standing with Israel against Iranian-backed Hamas terrorists, and working to combat the disastrous Biden administration!
Thank you for following along on my journey in Congress. Below is an update on various issues I have been working on this past month.
---
My amendment passed to prohibit the out of control Biden administration from stopping construction on the High Explosive Synthesis, Formulation, and Production facility at the Pantex Plant in Amarillo. Modernizing our nation's only nuclear weapon assembly and disassembly facility is imperative! This is a huge win for Texas' Thirteenth Congressional District, and I will always be committed to strengthening our national security. You can watch my full remarks below:
I had a great experience visiting Fort Bragg in North Carolina. I had the privilege of meeting with XVIII Airborne Corps leadership, touring the headquarters of the 82nd Airborne Division, and receiving an update from the 3rd Special Forces Group. God bless our troops!
Holding Antisemitic Congresswoman 

Accountable
The terror that Israel, and Jewish people all over the world, are undergoing is sickening, and Hamas must be destroyed. Sadly, some across the world, and even a U.S. Member of Congress, Representative Rashida Tlaib, have made their allegiance to Hamas known. Congresswoman Tlaib cannot be trusted with sensitive information that puts American and Israeli lives at risk. I sent a letter to House leadership demanding that her security clearance be revoked and that she be barred from any classified briefings on the conflict. She is a pro-Hamas, pro-Iran, anti-Israel, anti-American pawn!
You can read the full letter here. For additional information, you can read the Fox News article here.
Cactus Church Group Safely Back From Israel!
Parishioners from Our Lady of Guadalupe Church in Cactus, TX were stranded in Israel when the war began on October 7th. With striking similarities to the Afghanistan withdrawal, the Biden State Department failed American citizens that were in Israel when the conflict started to unfold, leaving them to get back to the U.S. on their own. Thankfully, after exploring every feasible pathway for them to get out of Israel, my office was able to help the group of 32 pilgrims get home safely. You can read more here.
I have and always will stand with Israel. I took to the House Floor last week to encourage my colleagues to do the same. Israel needs our support now more than ever, and I am proud that the House voted overwhelmingly to pass a resolution declaring solidarity with Israel, reaffirming Israel's right to self-defense, and harshly condemning Hamas. You can watch my full remarks below:
Howdy! I had a great time in College Station last month when I was fortunate enough to get back to the great state of Texas and run into my friend Senator Ted Cruz. It is always great to get out of the swamp in Washington, and I am proud to be the only Aggie currently in Congress. Gig 'em!
Any American who watches a video of Joe Biden, particularly this one below, is bound to have legitimate concerns about his health. It's evident that even his staff appears anxious, fearing he might utter something they won't be able to get out of. What America truly needs is a strong and effective leader, rather than this weakness!
---
Thank you for reading my newsletter! To ensure you are receiving the latest updates from my office, I encourage you to subscribe to my e-newsletter and follow me on Facebook, Twitter, Instagram, and Truth Social. Please also forward this to your friends and family in TX-13 and encourage them to subscribe as well.
Your friend and fellow Texan,
Ronny Jackson
Member of Congress