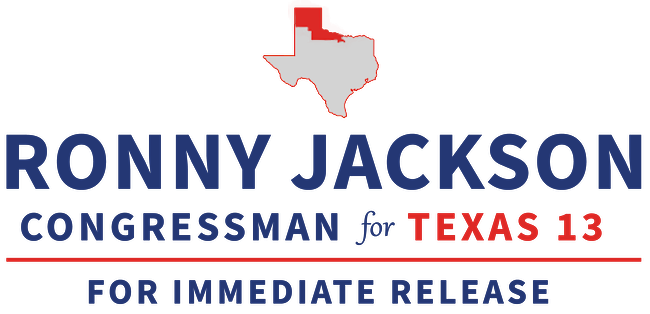 Thank you for following along on my journey in Congress. Please know that each and every day I am fighting for the conservative values I know Texas' Thirteenth Congressional District holds strong. Below is a recap of various issues I've been tackling, events I've attended, and much more so far this month in Washington.
---
Thank you veterans for your service to our country. I hope you all had a great Veterans Day! You can check out my full message to our veterans below:
Now, more than ever, we must stand strong with our friend and ally, Israel.
You can read my op-ed on this critical relationship published in the Washington Examiner by clicking here or below.
Briefing
 

with Hamas Victims 
"Never again" is now! Last week, I led a briefing with Representative Van Orden where we heard from survivors of the unprovoked attack that occurred in Israel on October 7th by Hamas terrorists. While it was troubling to hear first-hand from those whose family members and friends died, are missing, or being held hostage, it further cemented the fact that Hamas is an EVIL terrorist organization that holds zero respect for human life. We also heard updates from the Israel Defense Forces about their operations and tactics on the ground. The only moral high ground is to stand strong with Israel.
Apparently, violating the Hatch Act has no repercussions if you are a Democrat who believes in stripping parental rights in education. Department of Justice (DOJ) attorney Anne Donahue exemplifies liberal privilege and the rampant weaponization of the DOJ, and she is now a school board member in Loudoun County, Virginia. There is no doubt that she is going to do the DOJ's bidding now that she's been elected to a "nonpartisan" school board position in a district that's a known breeding ground for wokeism. These radical liberals in positions of power have a clear goal of endangering children's minds, bodies, and family relationships while labeling parents who fight for their right to protect their children as "domestic terrorists." For good measure, she also accepted cold, hard cash to her campaign from the Democratic Party of Virginia! This corrupt scheme is dangerous and must be stopped!
To learn more, you can read this article by the Daily Wire here and my letter below demanding an investigation:
I am very pleased that my amendment to stop blatant government overreach and prevent the Texas Kangaroo Rat from being put on the endangered species list passed. Landowners in TX-13 always seek to promote and protect wildlife, and we don't need federal bureaucRATS scurrying in and ruining our economy!
Prohibiting a Remain in Texas Policy 
The border is an unmitigated disaster. I believe the folks at DHS are having a contest to see who can come up with the worst attempts at "controlling" the border – a "remain in Texas" policy being their latest, pathetic attempt. Texas should not have to bear the burden of leftist open-border policies from the Biden administration. Secretary Mayorkas is a fraud, and I will not tolerate his dangerous incompetence. That's why I introduced a bill, supported by the entire Texas delegation, to prohibit any such policy from taking effect.
You can read more in Breitbart here, and in the press release here.
Legislation to Strengthen Military Readiness 
The United States, as the most powerful military in the world, should have the largest, most secure, and ready-to-go stockpiles possible. As the Biden administration continues to embolden our enemies, the threats to U.S. interests globally are skyrocketing. My legislation, the Securing American Acquisitions, Readiness, and Military Stockpiles (ARMS) Act will ensure expedited procurement procedures can be used to replenish our own stockpiles while we also provide critical lethal aid to our friend and ally, Israel.
You can read more here.
The Biden Administration is running our country off a cliff and old Joe doesn't even know what day of the week it is! The Democrats can't afford for Biden to be the man in 2024. Mark my words, the Democrats will find a way to sneak in a new candidate as we get closer to Election Day. It was great joining Peter Navarro on The Balance, hosted by Eric Bolling on Newxmax.
You can watch the full interview below:
It is always great to see my friend Sean Hannity. It was fun to have him at the Capitol earlier this month to interview Speaker Johnson and meet with us Members!
Thank you for reading my newsletter! To ensure you are receiving the latest updates from my office, I encourage you to subscribe to my e-newsletter and follow me on Facebook, X, Instagram, and Truth Social. Please also forward this to your friends and family in TX-13 and encourage them to subscribe as well.
Your friend and fellow Texan,