October Update from House District 65
I was proud to sign on as a co-author to HB 6, which will strengthen our infrastructure and defense along the Texas border.

Hello –

The 3rd Special Session of the 88th Legislature is underway and I am back in Austin for hearings and floor session. There is a lot to accomplish both in Austin and in HD-65 right now!

On Monday, in our House Appropriations hearing, we learned that 227 of the individuals who have been apprehended by US Border Patrol in 2023 are on the FBI terrorist watchlist. This is a 230% increase from last year… and 2023 isn't even over. Our committee passed HB 6 that night, and it will be on the House floor on Wednesday. You can watch here.

We have got to be resolute and stand strong in our efforts to keep Texans safe, especially at a time when the world around us is erupting in violence. This is no time to take our eye off the Texas border, which is the southern gateway to America.

Yours in service,
Save the Date for Re-Election Campaign Kickoff!
Can you believe it's that time again?

I'll be up for re-election in 2024. Even though I'm back in Austin right now for the 3rd-called special session, our campaign team is moving forward, because March 5 will be here before we know it.

Plan to come out and have some FUN! I'm proud that many of my elected colleagues will be there to support me…

We'd love to see

you too!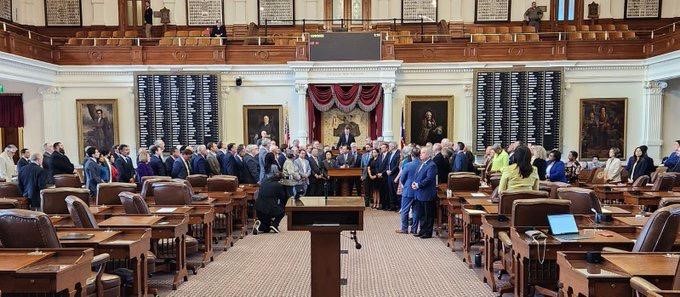 Texas will always stand for religious freedom! I was proud to stand with my colleagues as we unanimously passed HR 10 by Chairman Craig Goldman affirming our support for the people of Israel and their right to self-defense. We will not allow anti-semitism or terrorism to win.
This week early voting is underway as Texans decide on 14 Constitutional Amendments. Proposition 4 includes a historic $18 billion in property relief for Texans. For some voters there will also be local bonds up for consideration for your local school district or ESD.

Election Day is Tuesday, November 7.
Volunteering for our Campaign
Our campaign is off to a strong start as we have been block walking every week. If you have time during the week or weekends and would like to join us for some voter outreach this fall, please reach out to Elena Glassman at District@KrondaForTexas.com to learn more.

My dad is the best driver! That is another great way to help our campaign — with one person driving as the other walks and knocks.
Events Around the District
| | |
| --- | --- |
| Kicking off the Walk to End Alzheimer's 5K with Senator Drew Springer | Chief Reims leading off the Texas Fallen PD Fundraiser supporting families who have lost an officer in the line of duty |
| | |
| --- | --- |
| Enjoyed spending time with the Morrows as they toured the State Capitol with their grandkids last week | Good friend Eric Willis rode in #TXFallenPD in memory of Carrollton Officer Steve Nothem who was killed in the line of duty |
| | |
| --- | --- |
| Denton County Fire Fighters honoring those we have lost in the line of duty this past year. | Thank you to Carrollton City Councilwoman Daisy Palomo and Luis for visiting with us |
| | |
| --- | --- |
| Coach Odle before the LHS Football Game as the Farmers took on Plano West | Catching up with friends at Rep. Richard Haye's Re-Election Kick-Off |
| | |
| --- | --- |
| PediPlace CEO Larry Robins giving us a tour of Lewisville's PediPlace | Officer Herring with LISD's new special K-9 unit. Goja is a rockstar! |
Did someone forward this email to you? You can get your own subscription — sign up right here.

We will never share your information.
Pol. Adv. paid for by Kronda Thimesch Campaign