From Senator Cruz: Biden administration's bureaucratic roadblocks delaying bridge projects between South Texas and Mexico.
I began this week on the ground in Laredo, Texas to host a bipartisan and bicameral press conference pulling back the curtain on the Biden administration's bureaucratic roadblocks delaying bridge projects between South Texas and Mexico. As the Ranking Member on the Senate Commerce Committee, I have made this critical project one of my top priorities as these bridges will provide billions of dollars' worth of commerce to flow through South Texas to fuel our state and national economy.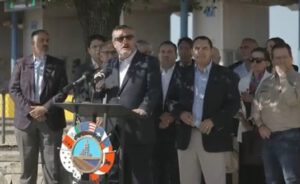 Two weeks ago, my colleagues on the Foreign Relations Committee unanimously adopted my amendment to streamline the permitting process for international bridges. I was proud to have secured an enormous bipartisan victory for South Texas with the passage of my amendment into the National Defense Authorization Act for Fiscal Year 2024. The expedited process will impact four bridges in Brownsville, Laredo, and Eagle Pass, Texas. Together, these four bridges will shorten border crossing delays, attract significant investment into the Lone Star State, help lower the cost of goods for American families, and spur significant economic growth. I am honored to have championed this pivotal win for South Texas and I am grateful to my colleagues across the aisle for their support on this important investment into the future economic development of our state and country.
On Monday, I spoke with Sara Carter of Fox News following my press conference in Laredo, which was later featured on Fox News' Hannity show, addressing a recent, shameful law lawsuit filed by the White House against the state of Texas.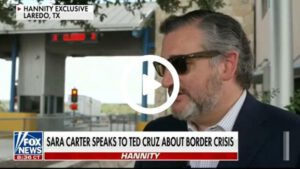 "Joe Biden and his administration has utterly failed the southern border. They produced the worst illegal immigration in the history of our nation, seven million people have crossed illegally under Joe Biden. And what does the Biden administration do? They don't show up at the border and say we're going to fix the problem. … Instead they come in and sue Texas."
On Wednesday, I joined KRGV Channel 5 News to discuss the importance of speeding up the permitting process for key bridges on the border to boost the South Texas economy and to create jobs.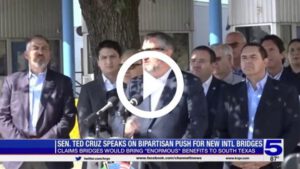 "The benefits of building these new bridges or expanding the bridges is enormous. We are talking about thousands and thousands of jobs for South Texas."
That same day, I joined Newsmax's Eric Bolling on The Balance to discuss the implosion of Hunter Biden's plea deal and the ongoing investigation into the Biden family's corruption.
"The FBI has stonewalled Congressional inquiries almost from the very beginning. When I ask DOJ and the FBI their consistent response is that they refuse to answer questions about the investigation. I think given that, the DOJ is much more skiddish because they realize that the evidence against them is looking really bad."
This week rounded out with the passage of this year's National Defense Authorization Act (NDAA). It will equip our service members with the resources they need to defend our national security here at home and abroad. I was honored to push across the finish line six provisions in the bill, including a measure to ensure that existing B-1 bomber wings, one of which is at Abilene's Dyess Air Force Base, remain in service through at least 2026 unless replaced by newer B-21 bombers, preserving our long-range strike capabilities. Read the release here.
This annual defense bill also includes key, bipartisan priorities I led to expedite permitting approvals for semiconductor factories and give consumers disclosure on home appliance recording devices.
This year's NDAA also provides funding for seven military construction projects in Texas, including:
$113 million for construction and land acquisition at the Red River Army Depot;
$74 million for a rail yard spur at Ft. Bliss;
$35 million for an analytic gas laboratory at the Pantex plant in Amarillo;
$20 million for an F-16 mission training center at Joint Base San Antonio;
$18.25 million for microgrid and backup power development at Ft. Cavazos;
$16 million for Joint Reserve Base Ft. Worth; and
$6 million for aircraft maintenance and a hangar addition for the National Guard in Ft. Worth.
Rest assured, I won't let up the fight to create jobs for hardworking Texans and keep our nation's economy strong. God Bless!
Keep Texas Strong,
MORE FROM SEN. CRUZ:
READ: Sen. Cruz Highlights Commerce Committee's Strong Bipartisan Efforts to Deliver Victories for Consumers and Take Steps to Protect Children's Privacy Online
ICYMI: Washington DC Reacts To AM Act's Passage To Senate Floor
READ: Sens. Cruz, Others Introduce Legislation to Designate Route 66 a National Historic Trail
ICYMI: Bureaucrats 'Don't Give a Damn': Ted Cruz EVISCERATES Chevron Deference in New Supreme Court Filing
STATE SPOTLIGHT
Future Farmers of America Texas Delegation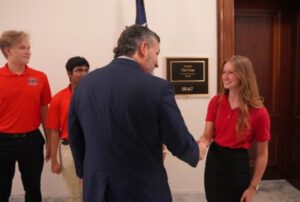 American Legion Auxiliary Boys & Girls Nation Texas Delegation
COMMERCE CORNER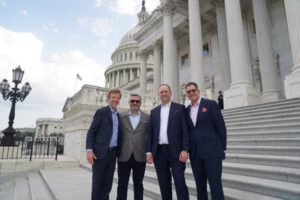 Mexico Pacific Executives of Houston